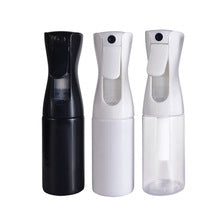 We understand the difficulty that can arise when styling your natural hair tool so have outsourced tools for your natural hair that allow for easy styling and natural hair maintenance.  
The 360 Mist Spray  bottle offers a continuous spray and is superb for those with kinky, coil curly natural hair. This hair tool is great for natural hair  as it reduces styling time, evenly distributes water to the strands and leaves hair feeling well moisturised. 
Unlike other spray bottles the 360 mist spray bottle allows you to keep a firm grip whilst styling your natural hair. Made from durable plastic and a lever that is easy to hold on this 360 mist spray bottle is great for styling and refreshing your coils, kinks or curls. 
The 360 Mist Spray bottle  has a continuous spray feature, once the lever is pressed, the bottles creates a mists which last for 3-5 seconds. This mist can also be controlled if lever is repressed. A great feature for styling and refreshing the hair! This 360 Mist Spray bottle is a must for any natural hair tool kit! 
Reduces hand fatigue
Airless this means it reduces the risk of contamination
Easy to clean.
Distributes bottles' content evenly.
Suitable for all hair types
150 ml 
*Please note if you order more than one item orders may be shipped out separately.