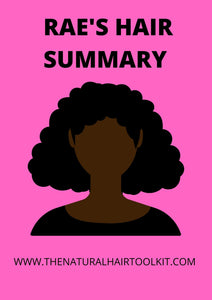 Do you desire healthy natural hair but do not know where to start? Are you a Naturalista looking to take your hair to the next level? Looking for an easy to follow guide on how to achieve the hair of your dreams?
Invest in one of our tailor-made hair summaries. Using the information, you share with us, we create a hair summary with suggestions, tips and remedies on how you can improve your hair health.
Each summary is custom-made to meet your hair needs and will help you achieve your hair goals!
Invest in your hair today and purchase a tailored made hair guide made just for you and your strands, your hair will thank you!